Wrist Tendonitis Rehabilitation & Exercises
 Powerball's Wrist Tendonitis exercises – use the proven solution
Find out why over 4 million people worldwide have benefited from Powerball products. Use what doctors, physios & chiropractors recommend. Powerball is a revolutionary device in the treatment of repetitive strain injuries giving fast wrist tendonitis relief.
With Powerball, you will have strong and healthy wrists because of its unique isometric exercise. Our confidence in the effectiveness of the Powerball treatment is built on the experiences and tested results of our customers. See some of our customer testimonies on this page.
How Powerball gives Wrist Tendonitis relief
Exercise with Powerball will provide immediate & long-term relief from wrist tendonitis.
Strengthen the muscles around the wrist enhancing grip and wrist strength
Increases the wrist joints range of motion, flexibility & mobility
Wrist tendonitis treatment exercises & programmes – Physio designed
Repairs scarred tissues & promotes synovial fluid production aiding recovery
Increases blood flow – Cuts rehab times
100% non impact – Isometric exercise – Ideal for rehabilitation
Body Armour for your Wrists
Powerball greatly increases blood flow & synovial fluid production throughout the wrist joint. Increased blood flow nourishes & lubricates the tendon & tendon sheath which are the root cause of the inflammation. This will relieve Tendonitis while continued use of Powerball will greatly minimize the risk of future inflammation.
Physio designed Wrist Tendonitis Treatment Programmes
Powerball has physio designed  non-impact resistance programmes designed for the rehabilitation of wrist tendonitis. Followed daily will give maximum wrist tendonitis relief, shortening rehab times and improving wrist health fast.
What does the physical therapist say?
Colm Murphy is an IATB physical therapist, lecturer in anatomy, & professional tennis coach. Colm is an expert in rehabilitation, musculoskeletal anatomy & analysis and works closely with elite level athletes. Colm designed our rehabilitation & strengthening programmes.
LCD Speed Meter -Track Wrist Strength Gains
Powerballs battery free LCD meter uses magnetic energy created by the spinning Powerball rotor. This will allow you to track your progress and push yourself along during your recovery period from wrist tendonitis.
What is Wrist Tendonitis?
Wrist Tendonitis refers to the rapid convergence of white blood cells on an injured wrist tendon, provoking an inflammatory reaction. It's a painful and highly debilitating condition generally brought on by overuse of the tendon either from playing a sport or by constant, repetitive movements of the wrist during work or leisure activity.
Getting Powerball Started

Wrist Tendonitis Treatment Video
Physio Approved. Customer Tested.
Physician approved
Fun and easy to use
Over 4 million sold worldwide
1000's of 5-star Reviews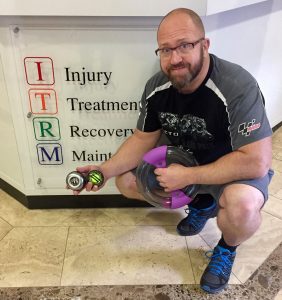 Choose the powerful, handheld gyroscopic hand exerciser that's right for you.
Autostart Classic

Auto-Start, Drop Resistant, 18,000rpm

Autostart Pro

Auto-Start, Speed Meter, Drop Resistant, 18,000rpm

Autostart Pro Fusion

Auto-Start, Multi Colour Rotor LEDs, Speed Meter, Drop Resistant, 18,000rpm